FELTED JEWELRY SET Handmade Gift For Women Felted Necklace 925 Silver Earrings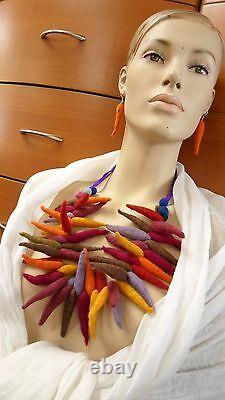 Lovely combination of classic with an emphasis on details. This gorgeous necklace/earrings set from HANDMADE DESIGNER JEWELRY ARTIST COLLECTION made of high quality ORGANIC felted extra fine merino wool and natural silk.
MATCHING EARRINGS WITH STERLING SILVER HOOKS AND HAVE STOPPERS. 100% ORGANIC HAND FELTED EXTRAFINE MERINO WOOL/silk. HANDMADE BY ARTIST IN IRELAND, EUROPE.
---