14K Silver Zircon Large Bull Head Necklace Stainless Steel Chain Jewelry Gift CZ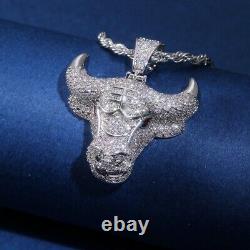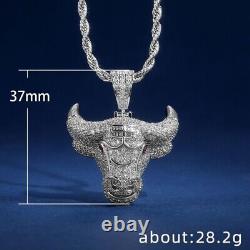 Introducing our exquisite pendant necklace collection, a true representation of handmade craftsmanship at its finest. Each pendant is meticulously designed and engraved by our skilled craftsmen, making every piece truly unique and one-of-a-kind. Our unisex collection boasts a range of stylish designs that can complement any outfit. Whether you're dressing up for a special occasion or looking to add a touch of elegance to your everyday wear, our collection has something for everyone.
Crafted with 925k sterling silver, our pendants are not only stylish but also durable and long-lasting. The heavy weight of each pendant adds to its quality and value, making it a precious addition to your silver jewelry collection. Each pendant comes with a matching chain that enhances its beauty and adds to the overall elegance of the piece. Wear it with confidence, knowing that you're wearing a handmade work of art that is truly unique. Upgrade your jewelry collection with our stylish and timeless pendant necklaces, a perfect gift for yourself or a loved one.
Shop our collection now and experience the beauty and craftsmanship of handmade silver jewelry.
---